RMK MARINE ANNOUNCES BN80 FOR SALE
RMK MARINE has announced that RMK4500, the 45m Ron Holland designed motor yacht that is in build at their yard is for sale ready for the 2012 season.

The yacht which is nearing completion offers clients uncompromising quality and exceptional value. The RMK 4500 has been built within the critical MCA 500GRT Limit and its layout allows for a capacity of 12 guests and 11 crew either for a private owner or high-end charter market.

A special sales brochure is being prepared and will be available to view at the Monaco Yacht Show where RMK MARINE will have a team exhibiting at stand QC5.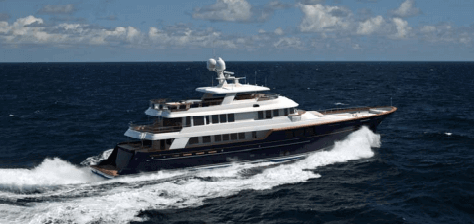 The superyacht offers unparalleled outside spaces throughout that provide everything you would expect in a modern yacht, access to the sea through the bathing platform, sunbathing and shaded spaces on deck and magnificent, versatile facilities on the sky deck.

The RMK 4500 has excellent boat stowage facilities for its high performance tenders under flush hatches on the foredeck meaning there is no loss of space at the aft end of the yacht. Also available to guests onboard is a Jacuzzi and sunpad as well as many relaxed outside dining areas. The master suite provides a wonderful inside/outside atmosphere that is created by opening up the entire glass aft wall of the master studio. This can be used in a number of ways as it comprises three individual sliding glass doors that move seamlessly to the port side leaving a completely clear opening or

smaller access opening as you choose. This well designed and unusual feature provides great flexibility on the master deck.

The brief for the interior design given to Design Unlimited was to create a welcoming comfortable environment that would be suitable for extended Mediterranean holidays as well as long-distance cruising. The theme for the interior is based on contemporary Asian design using influences from Thailand and Japan. This has resulted in a rich palette of materials being assembled by the team which incorporate specialised finishes such as gold leaf stencilling, custom lacquering, parchment and shagreen.

The combination of the materials give the yacht a truly relaxing ambience suitable for both family relaxation yet easily transformable for impressive entertaining.

The interior is being crafted meticulously by the in-house interiors team at RMK MARINE who also crafted the much acclaimed interior on Nazenin V as well as other yachts built at the yard.

RMK MARINE look forward to meeting visitors at the Monaco Yacht Show to talk about the RMK 4500 and their many other projects at the yard.