RMK MARINE YACHT KARIA NOMINATED FOR 4 SHOWBOATS DESIGN AWARDS
The RMK MARINE build Karia, the 45 m Motoryacht designed by Ron Holland with interior by Design Unlimited has been nominated in an impressive 4 separate categories in the prestigious Showboats Design Awards.

The beautiful recently launched yacht has been nominated in Interior Design Award, Exterior Design & Styling, Recreational Space Designed for Guest use and Interior Layout categories.

The ShowBoats Design Awards was specifically devised to judge and recognise the designers responsible for the individual elements of a superyacht. Aspects of the most impressive yachts launched in the preceding calendar year are scrutinised and judged by a panel of design experts.


RMK MARINE is delighted with this nomination which follows on from the recent ion of Karia as a finalist from numerous nominations in the hotly contested

World Superyacht Awards. Designed for the experienced yacht owner for long distance voyaging, Karia has been built to extremely high quality and specifications with long term low maintenance as a priority requirement. Particular attention has been given to ensure an efficient and sea kindly hull design, low vibration and noise and exceptional interior volume for a 45m yacht.

There are a number of features that separate this yacht from many others. The 500GT sized yacht, has an exceptional use of space to maximise comfort with light, airy and versatile spaces for up to 12 guests. The owners are afforded plenty of privacy on the master deck and the yacht incorporates a swimming platform aft and 2 tenders stored under the foredeck. RMK4500 Karia is also for sale and visitors have been tremendously impressed with the design, content and the quality of construction.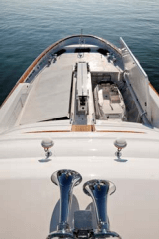 RMK MARINE has previously won several awards for yachts built at the yard. The beautiful 52m ketch Nazenin V was honoured with the Judges Special Commendation prize at the World Superyacht Awards in 2010 and the Vripack designed Caressa K also won an International Superyacht Society award in 2006.

RMK MARINE stated, "We are very proud that this beautiful yacht has been recognised in these categories and pleased that the judges also appreciated the superb quality and design of this elegant yacht".

With the investments in its infrastructure and facilities as well as in its labour force RMK MARINE has continued to raise the level of the Turkish superyacht construction industry. RMK MARINE offers great quality and service, whatever the structural material; from aluminium such as used for Nazenin V to steel & aluminium for Karia or composites as used for the Oyster superyachts.

The winners of the 2012 awards will be announced during a glittering gala evening at the Monaco Opera House on June 22, in front of a VIP audience of yacht owners and industry professionals from around the globe.